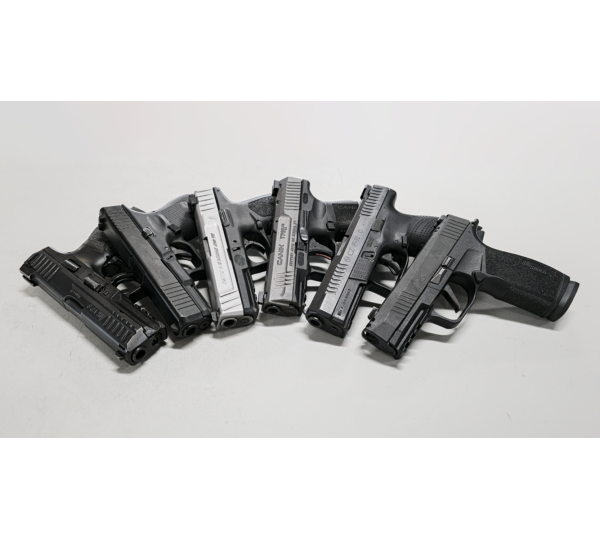 Course Description
Whether for self-defense or range time/fun time, there are an incredible number of pistols available to choose from. How do you know what to get? Which caliber works best for me? What are the pros and cons of a semi-automatic versus a revolver? Glock or Sig or…? What the heck is the difference between a striker fire and 1911 style pistol? What kind of holster should I get? What else do I need?
To help with your selection, join BPMF at Ready Gunner for a Pick Ur Gun night! Ready Gunner has an epic selection of rental handguns for you to try at no rental cost to you — all you need to pay for is the ammo!
BPMF will have experienced instructors available to answer your questions about the different pistols, calibers, and gear to help you decide what pistol will work best for you! Try as many pistols out on the range to help you decide what will be your next purchase!
Instructor: Todd Nielsen
Time Commitment: 2 hours
Price: $40
Setting: Classroom and range
Maximum Number of Students: 10
Notes: Eye and ear protection will be provided as well as unlimited pistol rentals.
For additional information, please call 801-607-5363.
Recommended Gear
Note pad and pencil to take notes
Location
Ready Gunner Store
1066 S. State St
Orem, UT 84097
801-607-5363
Disclaimers
Please bring your confirmation email to the training as proof of purchase.
The instructors do their best to attend the trainings assigned to them, however accidents and illness require that we reserve the right to substitute the instructors as needed.
If you need to reschedule, and it is 48 hours prior to the start time of the training, you may do so one time free of charge. Each additional time you reschedule (48 hours prior to the training), you will be charged a $25 fee.
If you reschedule within 48 hours of the start time of the training, you will be charged a $25 fee.
No refunds will be issued on cancellations within 48 hours of the start time of the training.
No refund will be issued if you fail to attend the training. 
Please email tom@readygunner.com for any schedule changes or call 801-607-5363.
Instructor Bio
Todd Nielsen spent 25 years in law enforcement serving in Special Operations, Narcotic Enforcement, Critical Incident Teams, Rapid Containment Teams, and much more. He has served with the Secret Service Dignitary Protection Operation for Presidents Clinton and Bush. After retiring from public service, Todd created Nielsen Training and Consulting and has dedicated his time to training law enforcement officers, military contractors and personnel, and the public. Not only does he train all over the world, but here in Utah he is the Director of Training at BPMF with multiple instructor certificates.
Additional information
Comments (0)