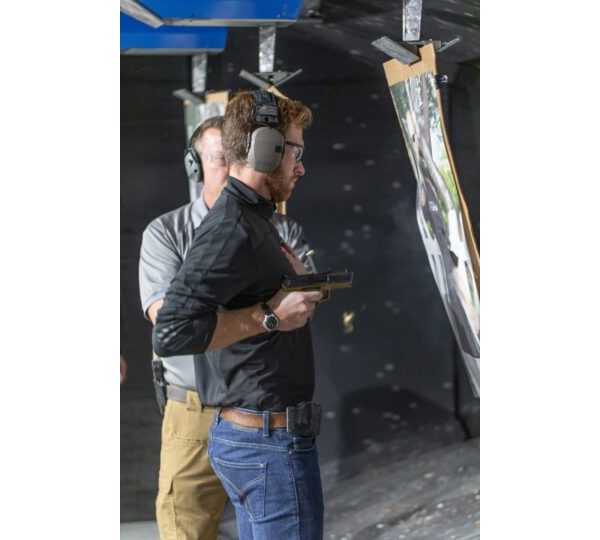 Defensive Handgun 3
Description
Forging Advanced Practical Shooting Skills With Semi-Auto Pistol. 
Please read course description throughly
Course Description
This is the third installment of the Defensive Handgun series. In Defensive Handgun 2, students learned how to draw and maneuver with a full-size or duty-size handgun. This class picks up where Defensive Handgun 2 left off, training students on how to effectively draw and present their concealed carry handgun of choice and execute shooting tasks across a variety of scenarios.
Instructor: Sean Burrows
Time Commitment: 2 4-hour days, for a total of 8 hours
Price: $100
Setting: Classroom and Range
Maximum Number of Students: 12
For additional information, please call 801-607-5363.
Required Gear
-Serviceable and concealable semi-automatic handgun
-250 rounds of ammunition
-5 dummy rounds
-4 magazines
-Handheld EDC light
-Eye protection
-Electronic hearing protection
-1 concealment holster
-Stiff EDC belt
-2 magazine carriers
-Firearm maintenance and cleaning supplies
-Permanent marker
-Functional range attire
-Food and water
-First aid kit
-Note-taking materials
-Positive attitude
Restricted Gear
IWB (inside the waistband) and OWB (outside the waistband) holsters are acceptable, as long as they are designed for concealment. Students using an OWB holster must have an outer garment to conceal the firearm appropriately as they would in public. Active or passive retention systems are allowed, except Blackhawk SERPA (or equivalent) button retention systems. Your holster must be made to specifically for the gun you'll be using. For safety reasons the following holsters are absolutely NOT ALLOWED in class:
-Blackhawk SERPA holsters
-Cross-draw holsters
-Ankle holsters
-Belly band holsters
-Fanny pack holsters
-Off-body holsters
-Small-of-back holsters
-Shoulder holsters
-Soft side collapsible holsters
Prerequisites
All participants must complete the courses listed below before taking this class, no exceptions:
-Defensive Handgun 1
-Defensive Handgun 2
After taking this course, participants will be prepared to take the following courses:
-Carbine Fundamentals
-Personal Protection Management
Location
Ready Gunner Store
1066 S. State St
Orem, UT 84097
801-607-5363
Disclaimers
Please bring your confirmation email to the training as proof of purchase.
The instructors do their best to attend the trainings assigned to them, however accidents and illness require that we reserve the right to substitute the instructors as needed.
If you need to reschedule, and it is 48 hours prior to the start time of the training, you may do so one time free of charge. Each additional time you reschedule (48 hours prior to the training), you will be charged a $25 fee.
If you reschedule within 48 hours of the start time of the training, you will be charged a $25 fee.
No refunds will be issued on cancellations within 48 hours of the start time of the training.
No refund will be issued if you fail to attend the training. 
Please email tom@readygunner.com for any schedule changes or call 801-607-5363.
Instructor Bio
Sean Burrows is an active 3-gun competitive shooter for Team Federal Premium, B&T USA, and Atlas Gunworks. In the offseason, he spends his time training and teaching classes for those with a desire to improve their skills with a firearm.
Born and raised in Fairbanks, Alaska, guns and the outdoors have always been a way of life for him. He spent his summers shooting .22 rifles and doing archery in his backyard, and the cold winters he shot air guns in his parents' basement.
In 2005, he participated in his first shooting competition at a campaign fundraiser for a local politician's campaign. He took third place and won a pump shotgun, which gave him his first taste of what would lead to a full-blown addiction to action shooting sports.
In more recent years, Sean has turned to 3-gun as his sport of choice, and he competes regularly across the western United States in club, regional, and national matches with his wife and shooting teammate, Alysia. His passion for shooting and firearms extends to the rest of his family as well. He makes ample time to spend with his four children, passing along the skills and life lessons learned from the pastime that has come to mean so much to him.
In 2020 he co-founded Elevated Training LLC to meet the ever-increasing demand for quality firearms education and has teamed up with Ready Gunner to provide you with unmatched training.
Additional information
Comments (0)